The importance of Can't Pass It On/Undetectable=Untransmittable (U=U) and how to discuss this with your patients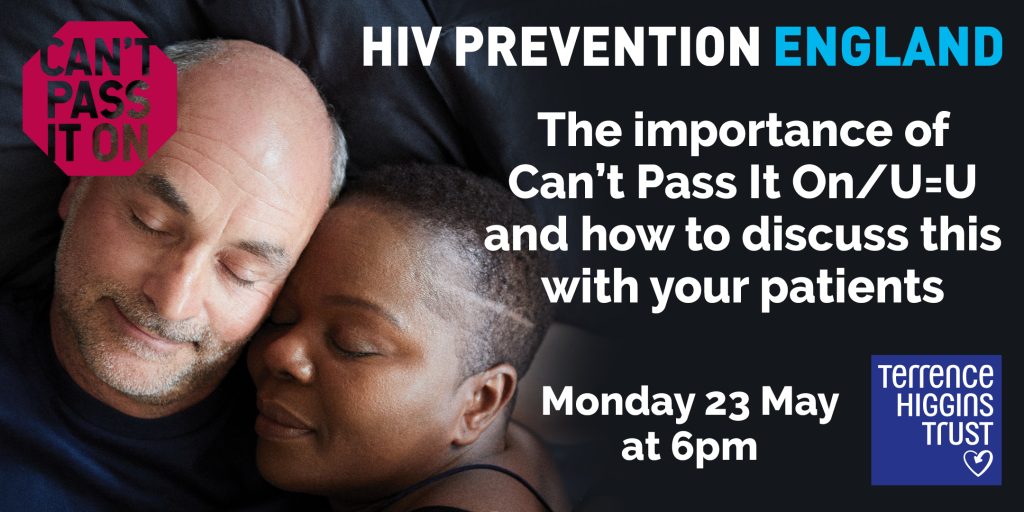 We're telling everyone: people living with HIV and on effective treatment can't pass it on.
It's one of the most positive messages someone living with HIV can hear. It reduces the stigma around HIV and provides motivation to stay on treatment to keep both themselves and their sexual partners healthy.
This webinar features Professor Alison Rodger (Professor of Infectious Diseases and HIV at University College London), Dr Melissa Gardner (GP and Director of the social enterprise Sexual Health in Practice (SHIP), Bruce Richman (Founding Executive Director of the Prevention Access Campaign which launched the U=U movement.), Dr Michael Brady (Medical Director at Terrence Higgins Trust) and a panel of people living with HIV. Join the event online to:
Learn about the evidence behind U=U.
Understand from a patient's perspective how to convey the U=U message to your patients.
Understand the impact of U=U on people living with HIV.
Know how and when to raise U=U with your patients.
Know how to talk about U=U to patients coming in for an HIV test.
Know why U=U is a game changer in the fight against HIV around the world.
Have the opportunity to ask any questions you have about U=U/Can't Pass It On to our panel of experts.
When: 6pm-7.30pm on Monday 23 May 2022.
Register for your place today.
Past events
Latest HIV prevention, treatment and cure news from CROI 2022
The Conference on Retroviruses and Opportunistic Infections (CROI) took place from 12 to 16 February 2022.
HPE collaborated with NAM aidsmap to share a summary of the latest HIV prevention, treatment and cure news and scientific data from the conference in this short webinar, which took place on Tuesday 1 March 2022.
Watch webinar archive and download slides
National HIV testing trends and gaps during COVID-19: Latest data from UKHSA
Date: Thursday 10 February 2022
This National HIV Testing Week, join us for an expert webinar with Dr Alison Brown and Dr Nicky Connor from the UK Health Security Agency (UKHSA), where they share the latest insights from the newly-published HIV testing and new diagnoses surveillance data.
European Testing Week 2020: Testing vulnerable populations in COVID-19 restricted contexts
Together with European Testing Week, HIV Prevention England hosted a webinar on Monday 23 November 2020 looking at testing vulnerable populations during the pandemic.
Preparing for equitable access to HIV PrEP in England
On Wednesday 4 November HPE hosted a webinar 'Preparing for equitable access to HIV pre-exposure prophylaxis (PrEP) in England' with guest speakers from BHA for Equality, Africa Advocacy Foundation and Prepster.
One out of five of every HIV diagnosis in the UK is in the Black African community, yet less than 5% of individuals accessing PrEP in the UK are Black African. Looking at PrEP awareness, the core precursor for access, knowledge is very low for this cohort, especially compared to other affected communities.
The webinar provided decision-makers and healthcare professionals the opportunity to explore this issue with the following questions:
What do we know about PrEP and Black African communities?
What are the myths and other barriers to PrEP awareness and acceptability?
What can we learn from past community PrEP programmes?
How will we achieve equitable PrEP access for individuals who may benefit from it?
What are some of the challenges and opportunities along the way?
Webinar feedback
The event was well attended by a number of stakeholders from across the sector, including health promoters and educators, local authority colleagues and commissioners, Public Health England staff and researchers.
Our feedback survey was responded to by 18 attendees, 63% of which work with Black African communities. All 18 respondents advised that the webinar was well oragnised, matched or exceeded expectations, and the delivery was of a high standard. They also unaminously advised the presentations were relavent and applicable to their work, and clear and easy to understand.
Thank you to respondents who provided further comments, these included the opportunity to find out what was happening at a community-level, the lessons learned from the projects, and information about how to engage different communities about PrEP.
Some attendees would have liked to see further forward thinking on this issue, building on the reflections presented during the session. Some would also like further information about promoting PrEP to other populations such as sex workers.
Download the presentations
HIV Prevention England and NAT (National AIDS Trust) invited you to join us for this online event on Wednesday 26 August 2020 exploring how to deliver safe and effective community HIV testing in the current context of COVID-19, and launching NAT's two new toolkits, created to support the effective design and evaluation of community HIV testing.
HPE organises a conference to bring together professionals working in HIV prevention and sexual health in England, as well as other key figures and influencers in the field of HIV.
The 2020 conference took place on Tuesday 18 February in central London.
Download the programme [PDF]
During July 2019, HPE hosted two training webinars for community and health professionals working in HIV prevention in England.
Thursday 28 March 2019
Earlier this year, the Government announced a new goal to eliminate HIV in England by 2030. In order to achieve this ambitious goal, providers in the HIV and sexual health sector need to ensure services and interventions are reaching the key populations at risk of HIV. The trends in key populations have shifted since the beginning of the epidemic.
This event sought to determine what those trends are, and what the implications for service delivery may be.
Monday 22 & Monday 29 October 2018
This free event for GPs and other professionals working in primary care provided an expert-led introduction of pre-exposure prophylaxis (PrEP) and information on HIV testing, ahead of National HIV Testing Week.

Monday 21 May 2018
We hosted a lunchtime webinar for HIV and other professionals on what it means to be undetectable and uninfectious.
The webinar was facilitated by Dr Michael Brady, HIV consultant and Terrence Higgins Trust Medical Director.
Wednesday 14 March 2018
Working together with the PaSH partnership, we hosted an information seminar on PrEP in Greater Manchester. The session covered the ongoing PrEP Impact Trial, how PrEP fits into the HIV combination prevention package, and the role of health professionals in ensuring adequate access by those in need.
Tuesday 7 November 2017
This webinar covered was delivered in partnership with CliniQ, ClinicT, The LGBT Foundation and Yorkshire Mesmac.
Thursday 18 May 2017
HIV Prevention England (HPE) organises a biennial conference to bring together HPE partners, commissioners, health promoters, HIV service providers and faith leaders working in England, as well as other key figures and influencers in the field of HIV. The last conference took place on Thursday 18 May 2017 in central London.
Download the programme [PDF]
The conference had the following outcomes:
Increased understanding of and attachment to the HPE programme.
Increased understanding of the latest developments and current issues in HIV prevention in England.
Delegates can take away at least one new idea for local implementation.
Find out more and view the presentations.
Friday 31 March 2017
This information seminar on pre-exposure prophylaxis (PrEP) explored access to PrEP, the upcoming national trial, and the potential impact of PrEP on HIV and sexual health services across England.
Monday 7 November 2016
The expert seminar we hosted on new HIV testing technologies explored the availability, uptake, and opportunities to the sector these new testing technologies provide.
Monday 9 May 2016
HPE hosted a stakeholder event in May 2016 [PDF]. The event covered future plans for the programme and local delivery.