About National HIV Testing Week
National HIV Testing Week (NHTW) is our flagship annual event which seeks to promote regular testing among key populations. It aims to reduce the numbers of undiagnosed people and those diagnosed late.
In light of the COVID-19 pandemic, Public Health England (PHE) and HPE have consulted with stakeholders across the sector and agreed to adjourn NHTW 2020 from November, when the annual event is customarily held, to Monday 1 February 2021.
While new HIV diagnoses have fallen for a third consecutive year, the latest data from Public Health England (PHE) reports 43% of all diagnoses were late. PHE has once again repeated its warning that people diagnosed late face a ten-fold increased risk of short-term mortality.
Population groups with particularly high late diagnoses rates include:
Heterosexual men (60%)
Black African adults (52%)
Those aged 50 and older (59%)
People diagnosed late are more likely to experience an AIDS-defining illness at the time of their diagnosis: this was true of 225 people in 2018, a similar number to 2017.
This year, the campaign will feature celebrities and influencers promoting 'Give HIV the finger: a finger-prick test is all it takes', a continuation of the successful creative that we have run for the last two years.
We are inviting organisations to participate by running campaign events, providing extra testing opportunities, and promoting HIV testing and prevention services with our support.
NHTW 2018 utilised the successful 'Give HIV the finger' creative, building on the existing recognition of the previous year's campaign. The key messages promoted the ease, convenience and accessibility of HIV testing. Targeted social media advertising and outdoor promotion in high prevalence areas helped to promote the campaign. In addition, more than 1,300 press articles were generated.
We made free resources available to anyone working in HIV prevention in England which bolstered local activity and advertised additional HIV testing events or signposted people to services.
Stakeholders were asked to evaluate the campaign following the event:
98% of respondents will support NHTW 2019
98% agree NHTW is a valuable addition to their HIV prevention efforts
70% agree NHTW increased their organisation's capacity to impact their community/clients
56% provided extra HIV testing opportunities for their communities.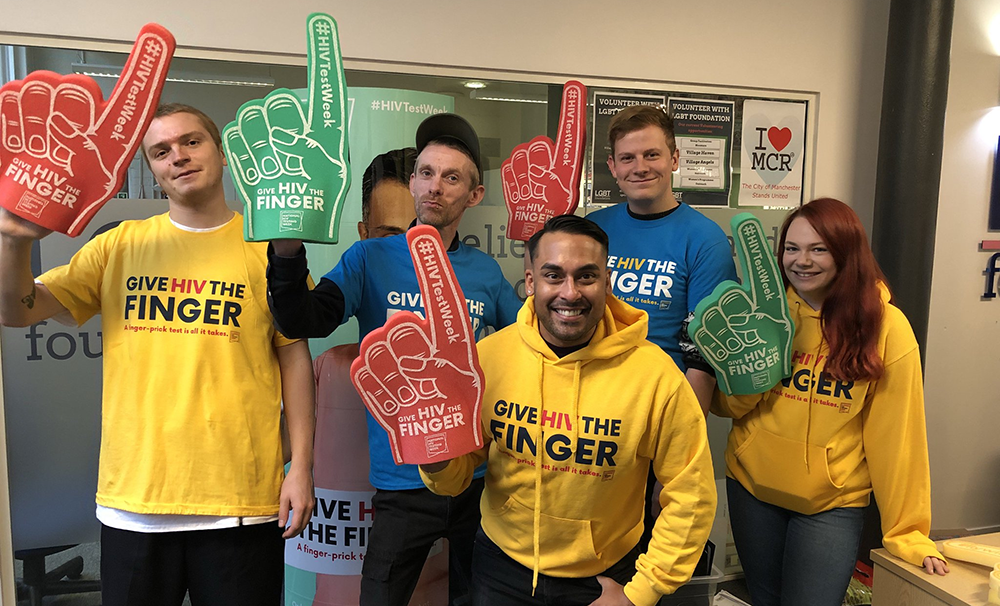 Getting involved
We encourage stakeholders to do whatever is best for their local area and community including:
Ordering NHTW branded posters and resources for their services.
Organising additional local testing events in clinic and as part of outreach in community settings.
Registering testing events scheduled during the month of November through our online 'test finder' tool. These events are then promoted to people at high risk via online promotion of the It Starts With Me 'where to test' tool.
National HIV Testing Week 2018: Highlights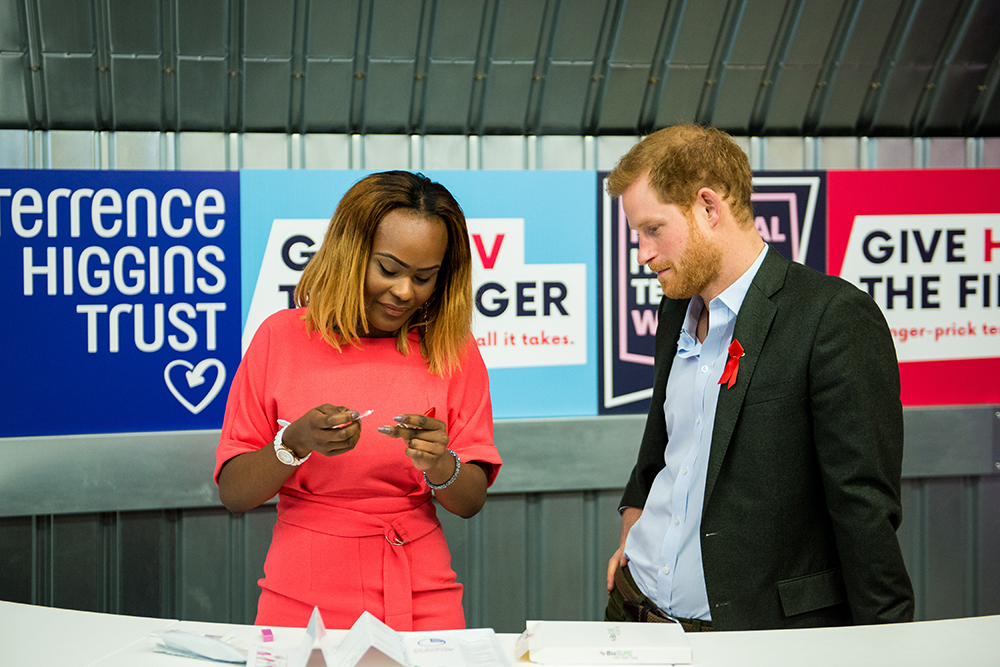 In 2018, the campaign ran from Saturday 17 to Friday 23 November. Continuing from the previous year's campaign, the key message was 'Give HIV the finger', indicating that a finger-prick test is all it takes.
NHTW provides amplified opportunities for individuals who would otherwise never test to do so, and prompts all individuals at risk to get tested. Last year:
The Duke of Sussex shared an important message in a video recorded for NHTW encouraging people to get tested. The video achieved 100,000 views on Kensington Palace's official Twitter feed.
The campaign achieved significant coverage in mainstream media as well as targeted features in LGBT+ and African press, TV and radio.
HPE and our local activation partners tested MPs across England, including the Secretary of State for Health and Social Care Matt Hancock.
Clinics and community organisations prepared more than 300 additional testing and promotion events around the country for people to participate in.
Find out more about NHTW 2018 in our campaign briefings
Campaign briefing for Sexual Health Commissioners, Directors of Public Health and other local decision makers [PDF]
Campaign briefing for HIV, Sexual Health and other community-based organisations [PDF]
Campaign briefing for Clinicians [PDF]
Campaign briefing for Faith Leaders and Communities [PDF]
Contact Us
If you have any questions about NHTW, please get in touch. You can also follow us on Facebook and Twitter for the latest updates.