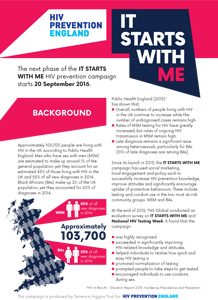 We're pleased to be able to announce that the new look It Starts With Me campaign will launch on 20 September 2016.
Since 2013, the national campaign has used social marketing, local engagement and policy work to increase HIV prevention knowledge and behaviours – including testing and condom use – in the nation's most at-risk groups. The recent evaluation by TNS-Global revealed that while successful, there are more opportunities for the campaign to have greater impact. We hope to incorporate the evaluation feedback into the refreshed campaign.
The campaign aims to provide clear, consistent messages and activities across the country. These will seek to encourage individual responsibility, increase HIV testing and preventative behaviours and improve HIV knowledge.
The key elements of the campaign include video, advertising and provision of HIV prevention resources. Video, digital and print media will effectively promote messages of accessibility and acceptability of testing.
Find out more from our briefing document [PDF]