There has been a sustained outbreak of hepatitis A virus in England and Northern Ireland, predominantly affecting men who have sex with men (MSM). Between July 2016 and January 2017, there have been 51 cases, 42 of which were in MSM.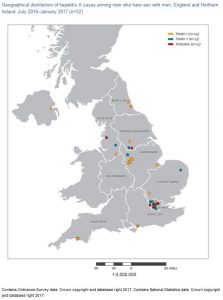 Investigations found that the outbreak was imported from Spain, with secondary sexual transmission within the MSM population in the UK. The two main regions affected are London (20 cases) and the East Midlands (12 cases).
The national response from Public Health England and local bodies, according to Beebeejaun et al (2017) has been to:
Enhance surveillance for MSM-associated cases through an adapted questionnaire
In conjunction with BASHH, alert health professionals about the outbreak
Recommend vaccination of at-risk MSM in outbreak areas according to national guidelines
Test cases for other STIs and partner notification
Increase public awareness of the issue and need for increased care
Give post-exposure prophylaxis to close contacts.
Professionals who work with clients likely to be exposed to the virus should encourage individuals to practice good personal hygiene, including washing hands after sex and changing condoms between any kind of sex to reduce the risk of transmission.
Particularly during outbreaks, clinicians should also offer hepatitis A vaccination to MSM who have multiple partners, and MSM in areas where the outbreak is concentrated.
Coming soon: hepatitis A resources
HIV Prevention England will be providing information leaflets and posters on hepatitis A to support prevention efforts. These will be available to order soon.
Learn more about the outbreak and hepatitis A
For more information on the outbreak and hepatitis A, see:
Beebeejaun et al (2017) Outbreak of hepatitis A associated with MSM, England, July 2016 to January 2017.
PHE (2013) Hepatitis A. Green Book Chapter 13.
NICE (2014). Scenario: Prevention of infection with hepatitis A.