Public Health England (PHE) has released its latest Trends in HIV testing, new diagnoses and people receiving HIV-related care in the United Kingdom: data to the end of December 2019 report [PDF].
The latest surveillance data reaffirms that the UK is continuing to see a downward trend in new HIV diagnoses, but the fall is greater in some key populations than others.
New diagnoses
It is now estimated that there are 105,200 people living with HIV in the UK, of which an estimated 6,600 (6%) remain undiagnosed.
The total number of people newly diagnosed with HIV in 2019 was 4,139. This is 10% lower than the 4,580 diagnosed in 2018 and a drop of more than a third (34%) since the peak of 6,312 reported in 2014.
The biggest fall in new diagnoses is seen in gay and bisexual men (GBM), with PHE reporting an 18% fall from 2,079 in 2018 to 1,700 diagnosed in 2019. Amongst GBM the steepest declines were seen in men who were: White; born in the UK; living in London.
The drop in diagnoses from heterosexual contact was 6% from 1,664 in 2018 to 1,559 in 2019.
Late diagnoses remain stubbornly high, with 42% of people diagnosed late in 2019, this has only decreased by one percentage point since 2018. Calculations comparing their mortality rate to those diagnosed promptly indicate an eight fold increased risk of death.
Disparities in late HIV diagnoses continue to be seen across ethnicity with Black people more likely to be diagnosed late than White, Asian or mixed/other.
Percent diagnosed late in 2019 by ethnicity:

Unknown – 52%
Black African – 47%
Black Caribbean – 46%
Black other – 44%
Asian – 39%
White – 39%
Other/mixed – 35%
Late diagnoses are also higher in older populations, 56% of 50-64 year olds, and 59% of 65 and overs. Only 35% of GBM were diagnosed late compared to 52% of men who were likely exposed to HIV via heterosexual contact, and 44% of women.
HIV care and treatment
For the third consecutive year the UK has surpassed the UNAIDS 90-90-90 targets, in 2019:
94% of people living with HIV were diagnosed
98% of those diagnosed were on treatment
97% of those on treatment had an undetectable viral load.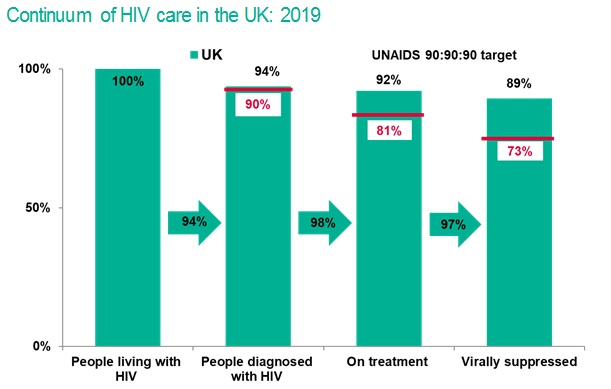 HIV testing
HIV testing remains the cornerstone of combination prevention efforts, as newly diagnosed people can access immediate HIV treatment ensuring they can live well and prevent onward transmission of HIV.
In 2019 1.3m eligible people were tested for HIV in sexual health services (SHS), this is an increase of 6% from 2018. Of all those tested via SHS, 18% did so via internet services. Positivity rates in SHS remains stable at 0.2%.
Popularity in internet services has increased substantially with 232,738 people tested for HIV in 2019 via this method, 63% more than in 2018.
Whilst people using internet services were largely similar to those using face-to-face SHS in demographic profile (ethnicity and sexual orientation), there were more likely to be younger, with 81% using internet services aged under 35, compared to 77% in specialist SHS.
PHE's National Home Sampling Service (NHSS) continues to be a supportive tool in enabling people to access HIV testing. In 2019, 25,514 self-sampling kits were returned to the service with a reactivity rate of 0.5%.
PHE's 'Survey of HIV Testing in Community Settings' reported 35,095 tests and a reactivity rate of 0.5%. People testing through the NHSS were more likely to be GBM and under the age of 25, whereas those testing in community settings were more likely to be Black African and first-time testers.

The next decade
The continued fall in new HIV diagnoses is to be celebrated and it's crucial that the momentum behind our combination prevention efforts is maintained to achieve the nation's goal of zero new HIV diagnoses by 2030.
There is no doubt that the COVID-19 pandemic will have impacted HIV diagnoses rates, access to testing and treatment this year. The HIV sector will need to work hard to ensure the efforts of the last ten years are repeated in the next.
The latest data from PHE provides some indication of which areas require attention from the sector, including:
The interrogation of missed opportunities for HIV testing in SHS
Ensuring all of England, not just London benefits from combination prevention methods
Addressing the health disparities linked to ethnicity in relation to late diagnoses and mortality rates
Upscaling the knowledge of pre-exposure prophylaxis (PrEP) in all key populations, not just GBM
A nuanced, cross-sector approach to raising awareness of HIV in order to address numbers of undiagnosed people who aren't GBM or Black African men and women.
Resources