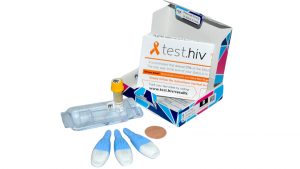 Since 2015, Public Health England (PHE) and a number of participating local authorities have funded a national HIV postal testing scheme for people from communities which experience a higher prevalence of HIV. These include gay and bisexual men, black Africans, and individuals who have a partner from a high prevalence country.
In support of National HIV Testing Week 2017, PHE have expanded availability of free HIV postal test kits to all areas of England. The additional tests will be available to order from now until Thursday 4 January 2018. Last year, more than 20,000 tests were ordered during a similar period and it is anticipated that even more will be distributed this year.
HIV postal test kits, or home sampling kits as they are also known, allow individuals to take a sample themselves at home by taking a finger-prick blood test. Unlike home testing kits, where the individual receives an immediate result, this postal test is then sent to a local laboratory for HIV testing and specialist management.
If a person has a reactive test result, they are contacted within five working days and given support options and information on where to get specialist services. Those with a negative result are contacted and informed within three days, or they can log in online using their unique personal code to check their results.
The national postal testing scheme complements existing HIV testing services. A postal test is highly accurate just four weeks after infection, and individuals who get a reactive result can get help in arranging a follow up clinical appointment. The scheme offers individual a viable alternative to testing in-person, and also provides the system major cost savings.
Postal HIV tests can be ordered from www.test.hiv.