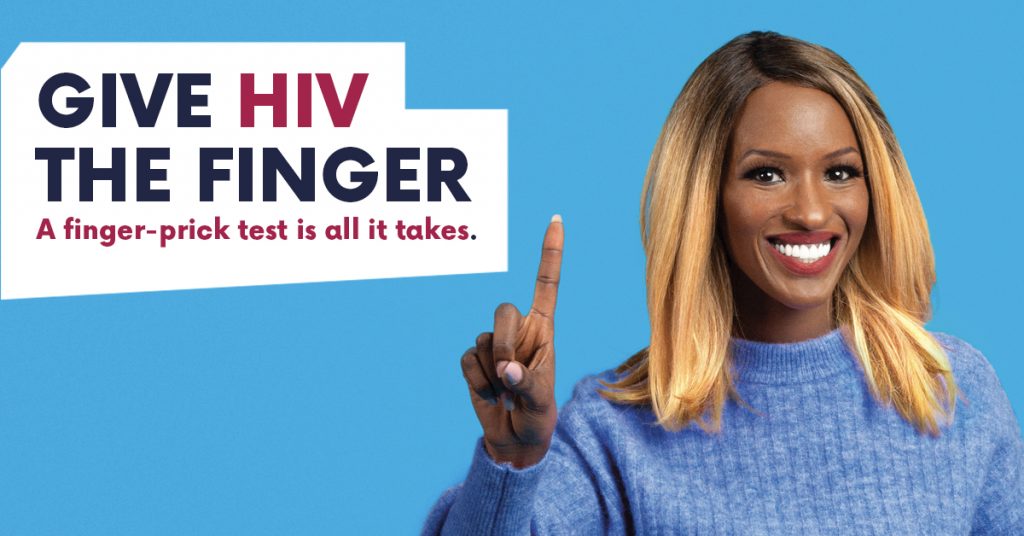 We're proud that National HIV Testing Week (NHTW) 2021 was an outstanding success despite being a very different event to the one we are all used to.
This NHTW our partners across the sector continued to show passion and enthusiasm as they engaged their local populations, albeit virtually and largely through social media channels this year.
Our campaign highlights include:
NHTW's most successful day ever with a record-breaking 8,200 HIV test kits requested on Monday 1 February. Popularity for HIV test kits was so high during this year's event that Public Health England (PHE) funded an additional 10,000 kits, enabling even more people to know their HIV status.
Our NHTW messaging was amplified across mainstream and social media, and the major broadcasters by Channel 4 drama It's A Sin which has continued to influence conversations about HIV as the series comes to a close on Friday.
More than 60 MPs testing for HIV at home, showing how easy it is to test, and engaging in important discussions based on the HIV Commission's recommendations regarding the normalisation and increased access to testing.
Celebrities and influencers including Dr Ranj, Great British Bake Off star and podcaster Michael Chakraverty, Nigerian sexologist Amos Sanasi, influential trans writer Juno Dawson, and many, many more promoting the campaign through social channels via takeover events and video messages on the importance of HIV testing.
We know thanks to the success of this year's campaign many of our stakeholders are interested to know the impact of testing kit uptake in their local area. PHE will be undertaking a review of the data over the next couple of months once most of the tests have been returned.
National HIV Testing Week evaluation results
Thank you to everyone who responded to our NHTW evaluation survey.
We received 71 responses, with more than 80% of respondents working in HIV or sexual health community organisations (41%), Sexual health clinics (32%) and Local Authorities (10%). Approximately one third of responses came from London (17%) and the South East (17%), and 14% from the North West region.
Headline results
NHTW continues to receive high levels of support from key stakeholders working in HIV prevention:
94% of respondents will support NHTW in future
97% agree NHTW is a valuable addition to their HIV prevention efforts
COVID-19
The impact of the COVID-19 pandemic was the biggest theme to emerge from the survey. There was a clear consensus that the campaign had managed to maintain its effectiveness despite the challenges of being a virtual event and without physical testing being able to take place this year.
It is felt there is need for a strong NHTW campaign in future, when conditions allow for the support of physical outreach and health promotion. There was a clear call for commissioners to support local HIV prevention efforts and show an interest in their work "so that more people in the community can be reached and get tested, leaving no one behind".
Unsurprisingly the results of the survey show the clear differences between the virtual 2021 campaign and NHTW 2019:
82% used the social media pack (NHTW 2019: 67%)
58% ordered physical resources (NHTW 2019: 82%)
32% delivered more tests than usual (NHTW 2019: 54%)
NHTW 2021 still had an impact on target communities
Despite the changes of circumstance to the delivery of this year's campaign, stakeholders still reported high levels of perceived impact in their local communities:
92% increased awareness of HIV testing amongst clients and the local community (equal to NHTW 2019)
78% agree NHTW has increased their organisations capacity to impact their community/clients (NHTW 2019: 83%)
32% raised the profile and support of HIV testing by engaging high-level public individuals (NHTW 2019: 26%)
Reactive HIV tests
We asked organisations who provide HIV testing if they had any reactive tests during the campaign.
Ten reactive tests were reported during NHTW 2021, more than NHTW 2019 (6).
Furthermore, all but one tests in 2019 were reported by community organisations, during NHTW 2021 the clear impact of the lack of physical HIV testing meant that all reactive tests were found in sexual health services (SHS). The increase in availability of online (or self-testing/self-sampling) via SHS appears to have also played a role in this change.
Thank you to everyone who took part in the evaluation survey and supported the 2021 campaign.