Guest blog by Amber Newbigging-Lister, Policy and Campaigns Officer, Terrence Higgins Trust.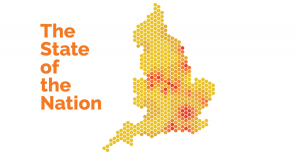 STIs are soaring, sexual health services are overstretched and public health funding continues to be cut in England. Sexual health inequalities, hindered access, changing behaviours and STI stigma, all contribute to further challenges in the sector.
Terrence Higgins Trust and British Association for Sexual Health and HIV (BASHH) have launched their new report 'Sexually transmitted infections in England: The State of the Nation'. With a stocktake of current evidence, the report has attempted to answer the what and why questions of STIs facing us today.
Findings
New STI diagnoses rose by 5% in 2018 from 2017, with new diagnoses of gonorrhoea and syphilis increasing by 249% and 165% respectively over the past decade. STIs disproportionately impact certain groups: men who have sex men make up 75% of all new syphilis diagnoses; 20% of new diagnoses are in people from specific ethnic minority communities; and young people account for nearly half of all new diagnoses.
A host of potential challenges perpetuate the trends seen in STIs, exacerbated by the lack of national vision around STIs and the impact of funding cuts. Both impact on access in the face of rising demand for sexual health services. The report highlights a need for more up-to-date research and data across STI trends, inequalities, behaviours, access, and stigma. Without this data, we struggle to identify clearly why we are seeing these trends.
There are some successes. The HPV vaccine has seen major decreases in genital warts among women, and with the expansion of this programme to boys and men who have sex with men, the success is likely to continue. This success can point to what's missing in other areas of STI prevention.
The report makes several recommendations, including the timely delivery of a cross-system and fully funded national sexual health strategy. While the government has committed to this, the question remains on what the process and timeline for the strategy will be.
But what can those working in the health and, in particular, the sexual health sector do?
To address inequalities in sexual health, the sector needs to ensure the co-production of future research and policies, and look at the broader context in which STIs occur. Recognising the social determinants of health, we need to question why people from marginalised groups experience worse burdens of STIs, and what we can do about it.
By empowering the voices of sexual health community champions, we can tackle STI stigma and encourage a change in knowledge, perceptions and actions, as well as the visibility of STIs. As a sector, we can help encourage conversations, positive messaging and stigma busting that can positively impact STI outcomes and engage people in services.
The support of strategy and funding is essential. The government needs to recognise and reinforce the important role of sexual health charities, health professionals, and community organisations. It is through such collaboration that we can improve the picture of STIs for the nation.