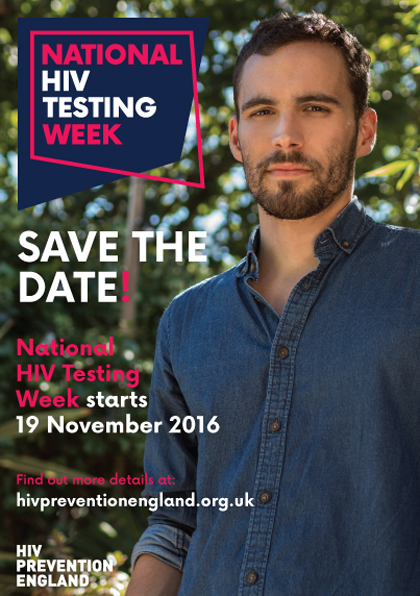 National HIV Testing Week (NHTW) promotes HIV testing to gay and bisexual men and black African men and women. These groups make up seven out of 10 people in the UK living with HIV.
NHTW 2015, which ran from Saturday 21 November, was the fourth annual testing week. We'd like to thank everyone who supported the week by getting tested, running events and offering additional testing services, tweeting and promoting the week on social media.
There were numerous adverts across social media as well as outdoor adverts across major cities, over 600,000 resources were ordered by 363 organisations with over 300 separate testing events registered on the 'Test Finder' by over 70 organisations.
We'd also like to offer our special thanks to television's Dr Christian Jessen who was our celebrity endorser and face of NHTW 2015.
How National HIV Testing Week works
The week is co-ordinated by HIV Prevention England (HPE) with support and participation from organisations in the public, statutory and private sectors, and promotes the benefits of regular testing and treatment for both the individual and community.
It raises awareness of the importance of HIV testing, as well as increasing opportunities to test – be it in clinical settings, in primary care, through community-based rapid testing or via postal testing. The ultimate goal is to increase regular HIV testing in the most affected groups.
Last year hundreds of organisations participated by raising awareness, providing extra testing opportunities and promoting services – with many using NHTW resources.
NHTW welcomes the participation of any organisation whose work reaches England's key populations affected by HIV.
A survey of organisations and clinics which participated in NHTW 2014 found:
96 per cent of agencies agreed that NHTW was a valuable addition to our HIV prevention efforts.
86 per cent of all agencies agreed NHTW had increased their capacity to impact on their community or clients.
98 per cent indicated they will be supporting NHTW again.
Know Your Needs
Knowing the needs of your local area is the best way of understanding what is working and what needs to improve. You can find out how your area is doing in comparison to the national average for HIV prevalence and late HIV diagnoses by using Terrence Higgins Trust's online tool.
Contact Us
If you have any questions about NHTW please get in touch. You can also follow NHTW on Facebook and Twitter and tweet using #HIVTestWeek and #imtesting.